Demonstrate your work and show your customers a beautiful photo you took. Whether you're a professional photographer or selling website content, you need easy-to-manage WordPress photography themes.
Citadela Premium license comes with everything a solid WordPress photography theme needs. It enhances the functionality of your photography portfolio or blog website thanks to Citadela Pro and Listing plugins.
Try free trial and after installation select a predefined Citadela Photographer layout for the WordPress photography theme. Professional website for photographers is ready in minutes. Now you can take care of your business and grow your content. Citadela is Gutenberg solution and you don't have to learn how to use a page builder. It is natural way of building website on WordPress. Thanks to Gutenberg, WordPress photography themes are fully versatile.
The photographer's website is the most crucial selling channel. The reason to use a predefined design is that it saves you time, money, and it looks professional. After installing a one-click layout package, you have a precisely looking website, as you see on our preview.
Why WordPress photographer themes and layouts are so popular
You do not have to spend time with theme tuning and settings. It comes with all sections and contents. Images are also fully loaded. Maybe this is not the case you would use in stock images, but at least you can imagine how to replace them with your own.
How to attracts visitors on photography website?
Do you sell your services, digital products or photo-based content? Then read carefully. There are two main points when talking about how to bring website visitors. The first is website optimization, which helps to appear your website in the search results on the topic you want. The second most important thing is to keep visitors' attention on your site.
WordPress themes have many features. When it comes to content richness, be creative and stand out from the crowd. Let's say you do wedding photography, write a short case study, and describe where and how you realize it. People usually order wedding photography once in their life. They pay attention to pick the right photographer. Sell yourself through your website content based on WordPress photography themes, which gives you more than just a portfolio feature.
We developed a particular feature for this second point. We named it Blog posts on the map. In addition to your regular content blog, you can add more valuable information. Add map pointers to your text and image content. Write articles about your work, show where it happened. Get higher views and reduce bounce rate. Readers find it more interesting if they can interact with content. They will stay on your site longer. Thanks to that, your website gets a better valuation.
Blog posts on the map allow you to make your photography WordPress website unique. You'll differentiate from the competitors, and your visitors will remember your photographer website more.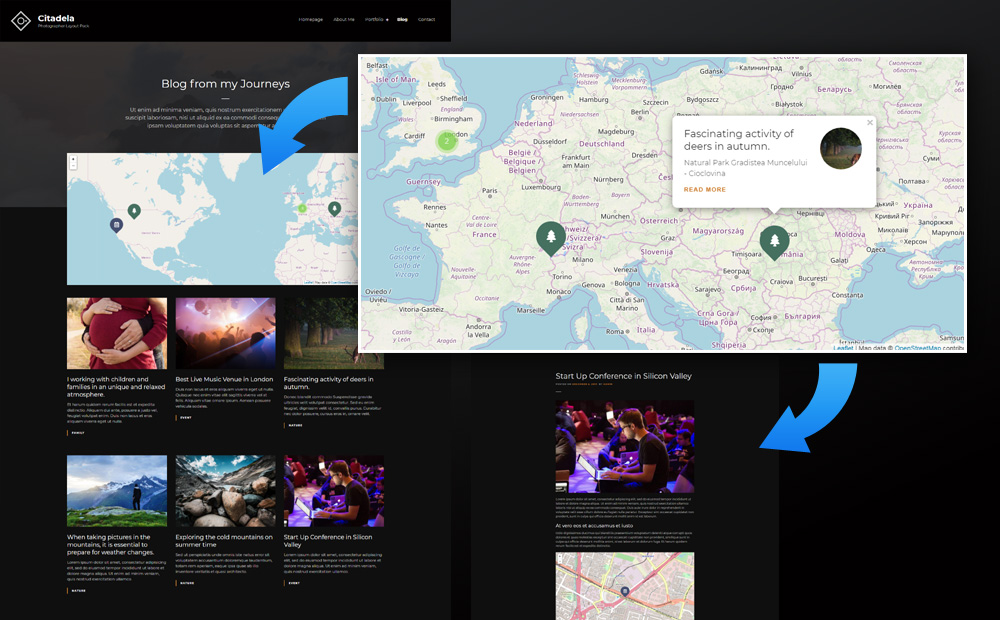 Photography portfolio and new business ideas
With your website, you have your channel and presentation. You can display all relevant work, describe as many details as possible. Web visitors and customers are looking for information. Use standard portfolio and display photo series.
Also, make some unique work presentation format. Create a case study or a special post and map inside the content. Maps feature in WordPress Posts in cooperation with catalogue features open new ways for how the website can work for you.
All these features are available in Citadela Layout for WordPress photography themes.
You should edit photos on your website before uploading them to your photography website.
Fully Responsive Photographer layout
All Citadela layouts are tested on all modern devices. Your customers can view your photography website on their desktop or laptop, but they can also be on the go and view it on a mobile phone or tablet. Every part of your photographer website needs to be visible and looking nice.
The Best Photography WordPress theme must be optimized for mobile devices. More than 50% are users coming through smartphones or tablets.
Good looking website is a strong foundation for your business. Keep this in mind and regularly work on your website content as well. WordPress photography themes with Citadela Layouts are a handy solution for how you can get top results.
Homepage of Photography WordPress Theme
First of all, the Photographer WordPress Theme has been designed in dark colours. This makes it stand out among other websites or WordPress themes. Homepage in Photography WordPress theme must show interesting photos right in the header. This is why the header of the Photography WordPress theme includes the three most compelling photographs.
The following sections of the Photographer WordPress theme below show more photos from your photo library. Photo layouts are modern and designed especially for photography websites.
The very bottom of the photography homepage includes a call to action, link to the photography contact page and optionally your phone number.
About me page of Photography WordPress theme
The About me page of your photography website is simple to read and straightforward. It includes a photo of yourself and a short bio. Photography WordPress theme is all about stunning images anyways.
Portfolio in Photography WordPress theme
Portfolio of Photography WordPress theme is the central part of your photography website. This is where you showcase your work. Photos in Photographer WordPress themes can be categorized into multiple categories. That way, you can show images for different focus groups, e.g. wedding photos or product photos.
Portfolio in Citadela Photographer layout can be displayed in various formats. Here's another example of photographer portfolio that is possible and is ideal for vertical images.
Blog in Photography WordPress theme
The unique part of the photographer website is the photography blog. It allows you to add blog posts to the map. That way, you can create exciting photography presentations for your visitors. Let's say you shot a concert in London, add it to the map. Have you taken some lovely panoramic photos on your last trip to the mountains? Add it to the map. Photography WordPress theme allows you to do it without any coding knowledge.
Blog post in Photography WordPress theme
Post detail in the Photographer WordPress theme can also include large photos and even a map of other posts. You can also add related businesses to the map, such as the restaurant you shot for your customer.
Contact page in Photography WordPress theme
Allow visitors to your photography website to contact you quickly. The Spacious contact page of the Photography WordPress theme shows your opening hours and all the contact details you would like to share.
Because contact pages are usually dull, you can add there a map of the recent project. This will make your Photography WordPress website unique and stand above the competitor photography websites.
How to purchase Photography WordPress Theme?
Photography WordPress theme layout is a free layout for Citadela. Photographer layout uses free Citadela theme, Citadela Pro, Citadela Blocks and optionally Citadela Directory plugin. Citadela themes and plugins are included in our memberships.
All active customers have free access to all released and new products. Citadela can be used to create blogs, portfolio presentations and photography websites. You may need to use all of our appropriate plugins to make it work correctly.
If you're not a club member yet, create a free account and download our free Citadela theme. We do not require a credit card to create a free account. Free Citadela WordPress theme is free to use also for a commercial photography website.